Get Involved with the Diplomacy Lab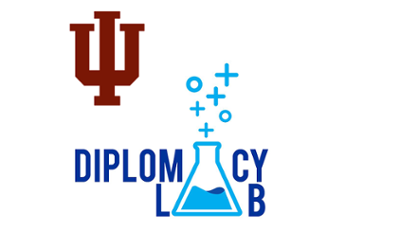 There are a number of ways to get involved with the Diplomacy Lab at IU. 
Bid on a Project
Application deadline extended!  Now accepting applications through Wednesday, April 10.
The Diplomacy Lab program is open to all Indiana University faculty members who are interested in engaging their classes in a collaborative project identified by the State Department.  The U.S Department of State identifies projects open to participating universities approximately six months prior to each semester.
Current Bid Deadline:
Fall 2019: Deadline Extended to April 9, 2019
How do I bid? 
IUB Faculty who wish to participate in Diplomacy Lab may submit online bids for a primary and secondary project by the current cycles designated deadline. View the project completion guidelines for more information. Due to the University's four project submission limitation, not all project bids will be guaranteed for submission.
Spring 2019
Energy to Burn: Using Renewable Energy to Help Malaysia Meet Climate Change Commitments (EAS - E490/G690, Environmental and Energy Diplomacy/Professor: Michael Hamburger)
Analyzing Russia's Influence on Modern Mongolia (INTL-I, Topics in International Studies/Professor:  Mark Minton
Fall 2018
Countering Dis-Information Through Story Telling (INFO-I 390, Undergraduate Independent Study/Professor: Sameer Patil)
 "Truth-Decay." What Are Nations Doing to Strengthen Themselves against Web-borne Disinformation (INFO-I 330, Legal and Social Informatics of Security/Professor: Sameer Patil)
Spring 2018
Energy to Burn: Using Renewable Energy to Help Malaysia Meet Climate Change Commitments (GEOL-G 490/690, Environmental and Energy Diplomacy/Professor: Michael Hamburger)
Azerbaijan's Political Past and Democratic Potential (Undergraduate Independent Study/Professor: Zeynep Elbasan)
Fall 2017
Reviving the Yugosphere (ECON-E390, Research Methods in Economics/Professor: Michael Alexeev)
Anticipating the Needs of 8 Billion People and Beyond (GEOG-G485, GIS Programming/Professor: Tom Evans)
Designing for Diplomacy: An American Experience (AMID-D 374, Advanced Interior Architectural Design Studio: Global Context/Professor: Marleen Newman)
Spring 2017
ICT Investment: Engine of Growth or Boulevard of Broken Dreams? (INTL-I 426, Computers, Cultures, and Our Globalized Future/Professor: Hamid Ekbia)
Energy Options for Vietnam (G490/G690, Environmental & Energy Diplomacy/Professor: Michael Hamburger)
Developing New Case Studies for Public-Private Partnerships (SPH-P510, Organization and Administration of Public Health Programs/Professor: Theresa Hunter)
Immigrant and Refugee Integration: Mobile Solutions for Mobile Populations (SPEA V550 Practice of Diplomacy/Professor: Rajendra Abhyankar)
How to Effectively Combat Anti-Semitism in 21st Century Europe (JSTU-J 304 / HON-H 304, Contemporary Antisemitism in Sociohistorical Perspective/Professor: Gunther Jikeli)
Benefits and Drawbacks of the ASEAN Economic Community (AEC) on Vietnam (SPEA-V-550, Practice of International Development/Professor: Anh Tran)
The Role of Technology in International Relations (MSCH-M413, Global Media Issues/Professor: Julien Mailland)
Conflict Mediation in Africa: What is the Missing Link? (SPEA-V450, Traditions of Inquiry; What is Public Policy For?/Professor:  Leslie Lenkowsky)
Fall 2016
Sprout Diplomacy: Growing Sprouts, Feeding People and Changing Lives in the Lake Chad Basin (INTL-I 370, Food Security/Professor: Olga Kalentzidou)
Political Impact of Increases and Decreases to Foreign Military Financing (FMF) Allocations on Partner Nations (IMP/Professorr: Huss Banai)
Urbanization! What About Food Security? (GEOG-G 461/561 Human Dimensions of Global and Environmental Change/Professor: Tom Evans)
Wonk Tank
Application Deadline: TBD

Wonk Tank is a competition for university students across the United States to showcase their ability to be America's next great "foreign policy wonk." A wonk is an individual student who has a keen interest in and aptitude for the details of public policy.  Future "wonks" are invited to pitch policy proposals addressing a specific international problem or challenge requiring attention, a nuanced solution, and next steps to consider. Three finalists are to Washington, D.C. to present their pitches to a panel of Department of State officials.
Diplomacy Lab Fair
The Diplomacy Lab Fair is an all-day event that takes place each spring at the Department of State's Diplomacy Lab. The morning session includes welcoming remarks from Diplomacy Lab senior staff; presentations by organizations, such as Young Professionals in Foreign Policy, No Lost Generation, the Center for Strategic and International Studies, Peace Corps, and the Virtual Student Foreign Service program; and a panel with Diplomacy Lab coordinators. Past Diplomacy Lab university project teams are also invited to showcase their work at a project fair throughout the programming. The afternoon session focuses on the Wonk Tank competition.
Diplomacy Lab Fair: TBD

Location: Marshall Conference Center, U.S. Department of State, Washington, D.C.